mp3split
Audio Chop
I know of a popular video platform that's full of digital music albums. I'm also aware of several download sites that can rip albums from the platform mentioned above and turn them into mp3's. The only problem is that when all is set and done, you end up with big audio files instead of individual songs. What to do? Split them! mp3split can help you chop them into tiny little slices of an album, called tracks.
First and foremost, if you enjoy working in a console environment as much as I enjoy having snails put on my head, then you should ignore the Download button and instead click here for the latest GTK version, which features a graphical interface.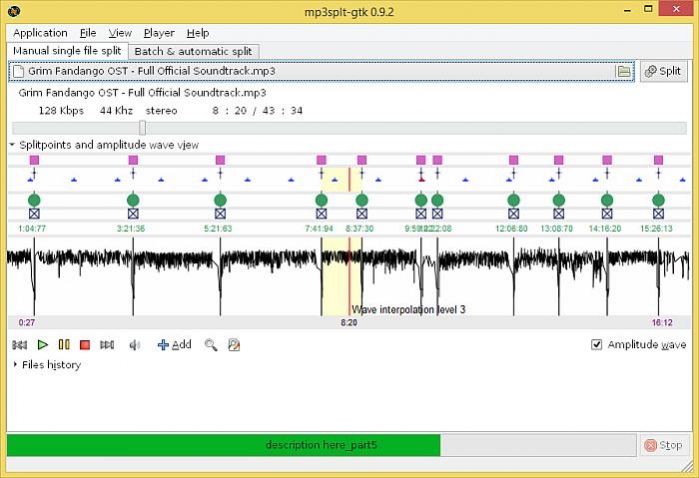 mp3split-gtk is probably not the prettiest or the most intuitive computer program you'll ever use. The graphic design is rather weak, the interface is cumbersome, and it's missing some functionalities. But it beats adding in attributes on a command line.
You won't be doing any comfortable splitting or make heads or tails of mp3split until you've checked the "Amplitude wave" box found on the right of the player controls. After opening an audio file (mp3 or ogg), you'll need to press Play for mp3split to start analyzing it. From then on, you can set up split points.
You can either set up split points the manual way or have mp3split place them where it detected silence, which is usually the pause between two consecutive tracks. In this way, you can make short work of splitting an album. However, I'd advice you'd check each point individually. You can never trust a machine, but as a rule of thumb, if the number of segments fits the number of tracks, then you're all set. Click on Split and, if you haven't fiddled with the Preferences, you'll find your tracks on the Desktop. Split points can also be imported. You can export your split points in the 'cue' file format.
In case you find yourself in the peculiar situation where you need to split multiple audio files and in the same way, you can use mp3split's 'Batch & automatic split' function. I haven't used it, but I bet it works fine.
mp3split can also be set to remove the periods of silence from a track but, honestly, I wish you could add silence or maybe even stitch up mp3's together, but I'm probably asking for too much.
Features
Can generate split points based on silence threshold
Removes silence
Wave visualization
Batch splitting
Can add in metadata
can import and export split points
Final Thoughts
I find mp3split's limited use just enough for my musical needs. Of course, if I do enjoy the heck out of an album I eventually buy it, but working on cutting an album into pieces also feels very satisfying somehow.
RELATED PROGRAMS
Our Recommendations
---
---
---
---